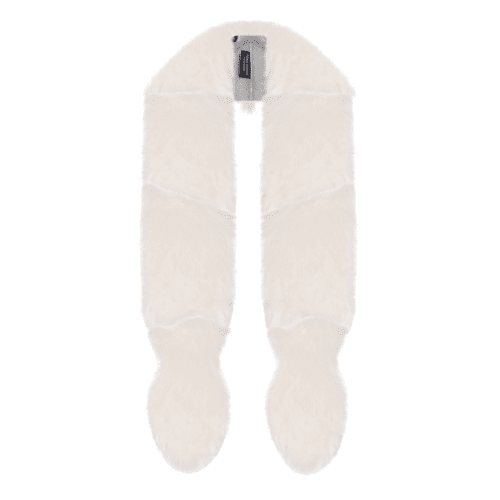 Design your own Faux Fur Pick 'n' Mix Vixen Scarf
Size: Length approx. 184cm x width at the neck 23cm.
Details: Shaping at each end of the scarf.
Composition: Faux fur, velvet lustre lining.
Wash & Care: Cool wash at 30° or below, allow to dry naturally.
Make it your own
Design your own unique version of the iconic Helen Moore Vixen.
With a choice of 30 faux furs there are thousands of possibilities (810,000 to be exact).
Create a totally individual design by selecting four colours you love and arranging them in your favourite combination.
Once you have chosen your Vixen colours we will make a beautiful faux fur scarf, just for you, and deliver it straight to your door.

Call us to discuss your choices if you're not sure what to pick. We can send swatches too, if that helps!
What will you choose?
&nbsp
Beautiful
Saw this on Fern Cotton via Instagram and bought a customised one. So gorgeous! Better than the pics - they don't do it justice. Can't wait to wear it out over Christmas. Excellent customer service too.
Hi Deborah
Thank you for your review - we'd love to see a picture of you wearing your Vixen scarf!
Best wishes Helen
Fingers crossed
Really hoping the Ocelot becomes available again as I'd love one of these. It's clearly far too popular as I never see it when I try. Fantastic idea!
Hello Soni
Thank you for your review.. Good news! Ocelot is back in stock so please visit the Pick 'n' Mix scarf on the website.
Follow the link below.
Best wishes
Helen
I order my scarf , it came and I'm so please with it beautiful I want to order a had band very soon
Thank you c
Fabulous
Took me a while to pick my colours but the selection tool was great. Arrived very quickly for something custom made and is truly fabulous, super soft, very cosy and looks beautiful.
Vixen scarf
Excellent service and really pleased with the scarf gorgeous